Posted on
Single-use plastic water bottles have proven to cause more harm than good. While their initial appeal and convenience once swept the world, they've now turned into an environmental quandary.
Reusable water bottles provide a light at the end of the tunnel, offering an alternative that helps protect the earth and those in it.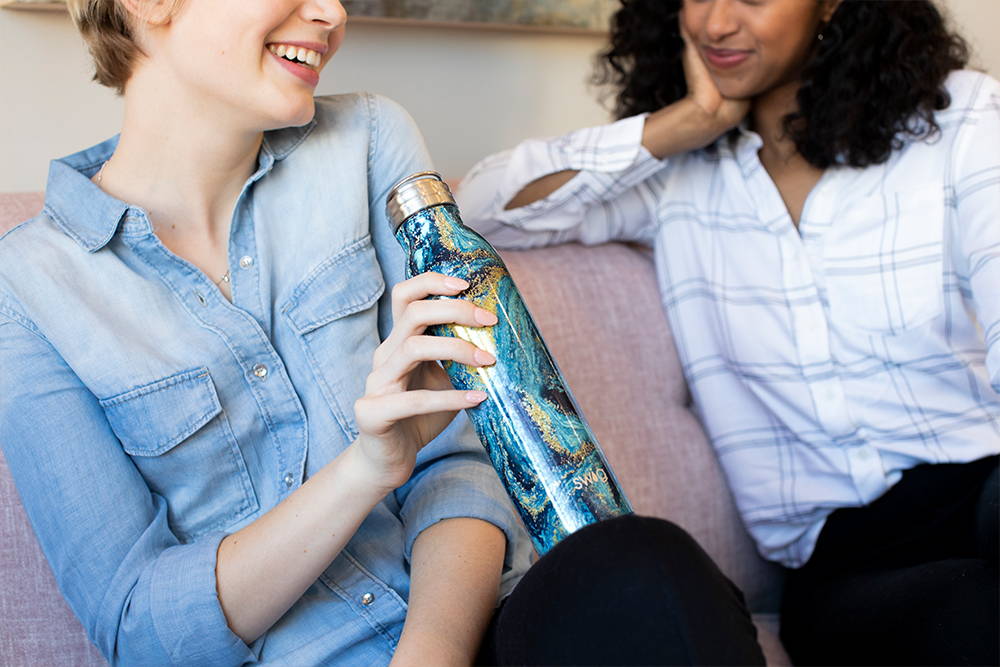 The benefits of reusable water bottles
Reusable water bottles have grown in popularity in opposition to their single-use counterparts. They offer a fashionable, customizable way to stay hydrated and show your commitment to the environment.
By using a reusable bottle, you are significantly decreasing your carbon footprint, putting more money in your wallet, and safeguarding your health. Still not convinced? Check out these fast facts.
Plastic pollution's effect on our environment
Here are 5 quick stats that show how the plastic from single-use water bottles take a toll on our environment.
1. Every second, the U.S. consumes 1,500 plastic water bottles.
That's almost 1.3 billion bottles a day. This shows our population's huge reliance on plastic water bottles—a product that could be easily replaced with a reusable one.
2. Of this massive amount of plastic, only 24% of it is ultimately recycled.
If you have to buy a plastic water bottle, make sure you're recycling it. Most of these bottles are made with a highly-recyclable type of plastic that could be repurposed into new bottles or even clothes.
3. Plastic bottles in landfills take around 450 years to decompose.
If it ends up in a landfill, plastic waste never actually fully biodegrades. Instead, it turns into something called "microplastics." These are tiny, harmful components of plastic that make their way into our water, land, and animals.
4. The process of creating a plastic water bottle uses fossil fuels and releases 2.5 million tons of carbon dioxide into the atmosphere.
Not only is the direct waste from a plastic bottle harmful, the productionprocess behind it is pumping out dangerous greenhouse gas emissions.
5. By swapping out plastic water bottles with a reusable one, you could save 156 plastic bottles annually from piling up in a landfill!
Worried about the other plastics in your life? Check out our blog on the 3 single-use plastics you can swap out today.
Plastic water bottles & your health
We know how harmful plastic water bottles can be on the health of the planet, but what about your body's health? The direct effects of bottled water may come as a surprise, as many are advertised as purified, or even healthier alternatives to tap water.
In reality, there are more intense safety measures in place for the production of tap water than bottled water, putting you at risk for unfiltered microbes, chemicals, or other pollutants.
Plastic water bottles also pose a risk due to their BPA contents. The plastic itself can contain a chemical known as Bisphenol A (BPA), which is linked to hormone-based medical issues.
By opting for a glass or stainless steel BPA free water bottle, you're protecting your body from potential harm and safeguarding the planet all at once!
Whether you're looking at it from a personal or planet perspective, there's no downside to making the switch to a reusable water bottle. By switching, your choice could have a huge impact!
---
Looking to battle dehydration this summer? Check out our 5 Tips On How to Stay Hydrated!
Ditch the plastic and get a Swig!