Camping may be a popular activity during the summer, but let's be honest; for some, the thought of leaving behind the majority of your creature comforts in exchange for a somewhat primitive experience isn't a quintessential fun time.
Luckily, the notion that camping must equate to "roughing it" in the woods is long gone, thanks to a multitude of new products and technologies that have been designed with the "glamper" in mind.
And what is "glamping", exactly? To us, "glamping" simply means combining our love for the great outdoors with our desire to also feel comfortable without any deprivation. And who wouldn't want that?
In order to help you prepare for perhaps the best glamping trip you've ever been on, we've scoured the internet and compiled a glamping gear list of our top luxury camping gear picks, from tents and cooking utensils, to basically everything you could ever wish for in between. With these next-level camping accessories, now you can have your s'mores and eat them too.
12 Glamping Accessories You Need for Your Next Trip
Chill by the fire or sleep like a baby with this luxury Mischa Quilted Outdoor Throw Blanket from UGG. This blanket is water resistant on the bottom and quilted on top—built to withstand the elements while maintaining style.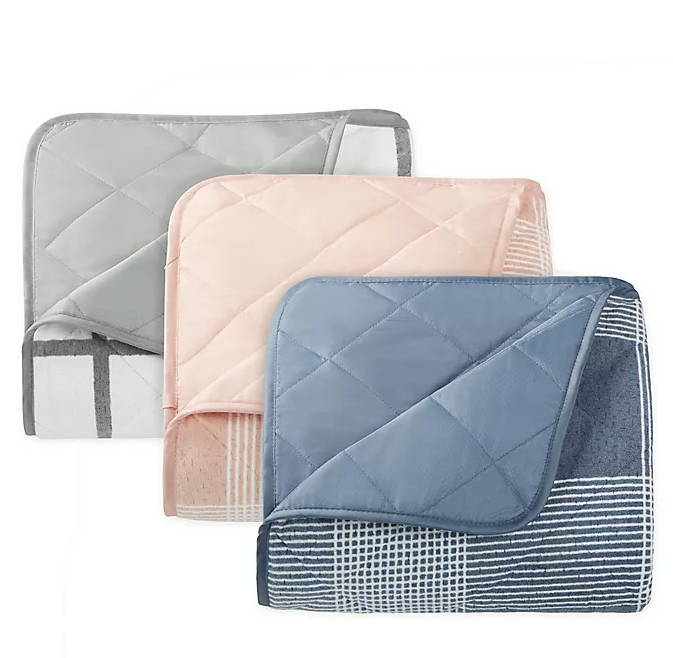 You could sleep on the hard ground, in uncomfortably close proximity to dirt and bugs; OR you could sleep elevated off the ground, on a supportive and soft air bed. This Sleep Set from Coleman includes a portable air mattress, battery-operated pump, foldable bed stand and even built-in side tables with cup holders. The best part about this piece of glamping gear? Everything packs away neatly in a portable bag for easy transport and storage.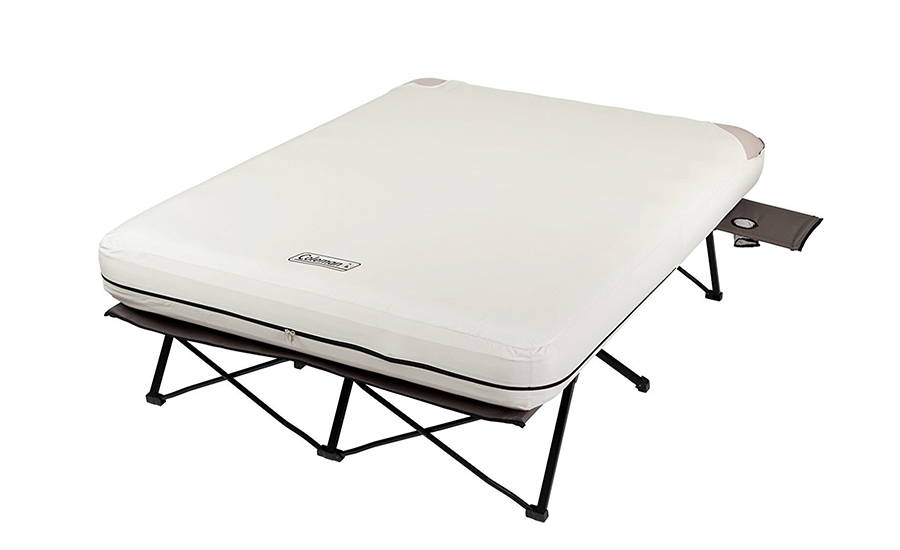 The most daunting thing about tents is often the set-up process. But not anymore. This Instant Cabin Tent from Ozark Trail makes setting up camp super quick - about two minutes, to be exact - thanks to its innovative pre-attached tent poles. Simple unfold and extend the poles, and just like that, you're ready to enjoy all that this tent has to offer: Seven windows, three rooms with removable dividers, ground vents for A/C, a front awning for shade and plenty of room to stand up, with a huge 6'10" center height. Luxury at its finest.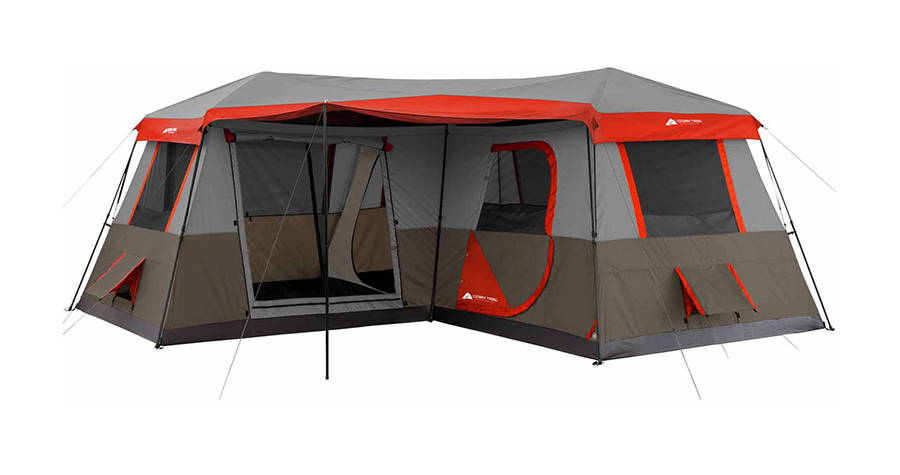 Public showers were all well and good when we were kids at summer camp, but as adults, we like to enjoy something a little more private and sophisticated. This Instant Shower/Changing Room from Ozark Trail includes a five-gallon solar shower that heats up in mere minutes from the sun, as well as a separate dressing room. This luxury camping accessory also features silver aluminum-coated walls for complete privacy, mesh panels for ventilation, a mesh drain, two coverable windows, a removable rainfly and even a towel rack and toiletries holder. Plus, the pre-attached instant frame makes setting up and breaking down a breeze.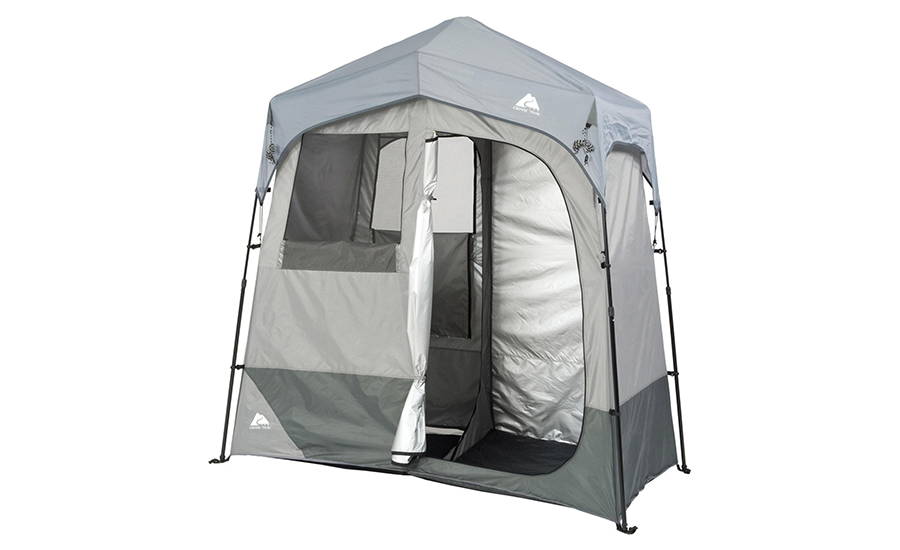 5. Propane-Powered Coffee Maker
If there's one thing we're not willing to give up while camping, it's our morning coffee. When searching for the best coffee maker to take glamping, we were looking for something that didn't require a camp stove and something in which we could brew our favorite coffee (because sorry, but instant espresso just doesn't cut it). This Coleman QuikPot Propane Coffee Maker features a push-button ignition for matchless lighting, a 10-cup glass carafe and removable dishwasher-safe filter basket to make all your camping coffee dreams come true.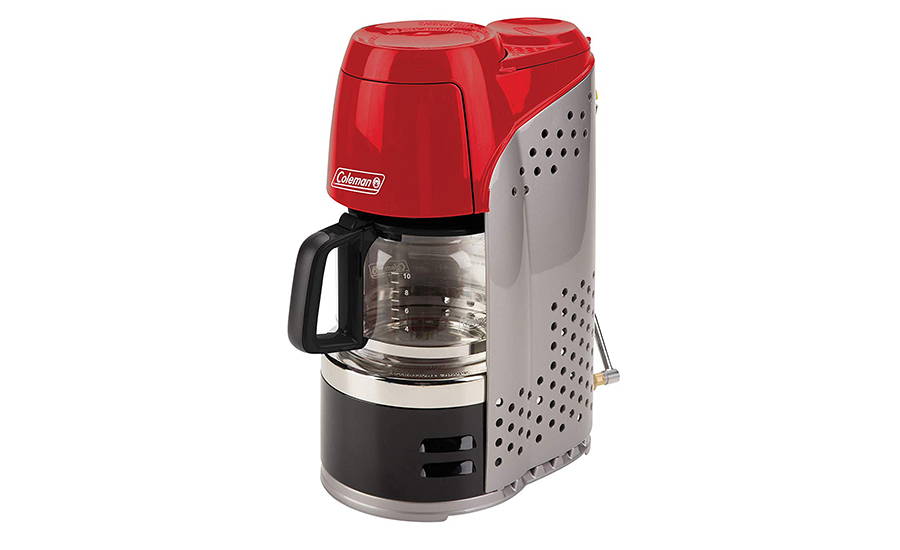 You'll be the most popular camper at your campsite with this Inflatable Outdoor Movie Screen. This 14-foot movie screen is made of durable oxford fabric and is perfect for high-resolution and enriched color movies. To set up the screen, you only need 3 minutes or less. And when you're finished, everything packs away neatly into the included carry bag. (Projector sold separately.)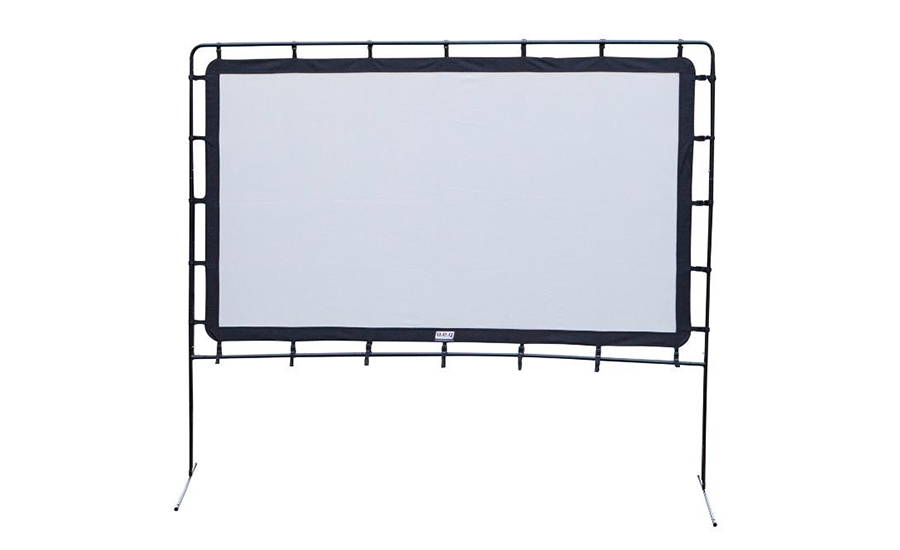 7. Dishwasher-Safe Cookware Set
Even though your camping is luxury, you'll probably still need to cook. That's where kitchen glamping gear comes in. This Stanley Cookware Set is so well-designed and inclusive that you'll feel as though you never left your kitchen. The 19-piece set includes a pot with a vented lid, a frying pan, cutting board, dish drying rack, a heat-resistant trivet for cooking over an open flame, four bowls, four plates, sporks, a spatula and a serving spoon. Everything stacks and packs away neatly into a 12" x 6.1" x 11" box and weighs only 5.6 lbs all together. And when you get home, you can throw everything into the dishwasher for its next use!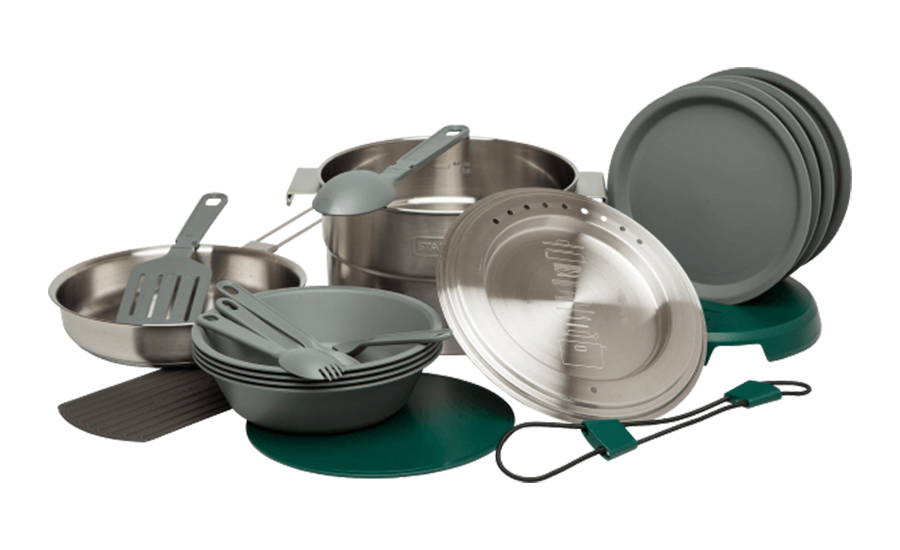 8. Liquid-Resistant Microfiber Tablecloth
When it comes to "glamping", it's all in the details, and this Reflections Microfiber Tablecloth will make your picnic table look modern and inviting. Not only does this tablecloth protect your table, but it also offers protection against spills, due to the liquid-resistant microfiber material. Should any drinks spill, the liquid beads up and easily wipes away. And clean-up is made even more simple since the microfiber tablecloth is also machine-washable (and wrinkle-resistant)!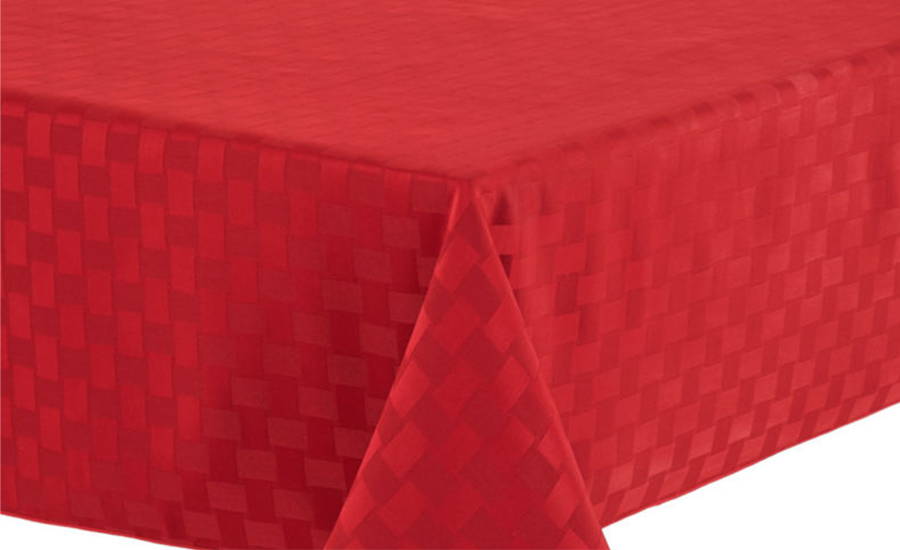 If you've ever tried starting a fire using old-fashioned methods, you know what a frustrating struggle it can be. Try it the easier way with this must-have glamping accessory. This Emergency Fire Kit from Zippo includes wax-coated cotton spark tinder that ignites when it comes in contact with the Zippo flint spark wheel. How it works is you first place the tinder on a stick and fray the cotton; next, you spark the tinder using the included flint wheel; then you place the ignited tinder into your fire, and voila! Starting a fire has truly never been easier.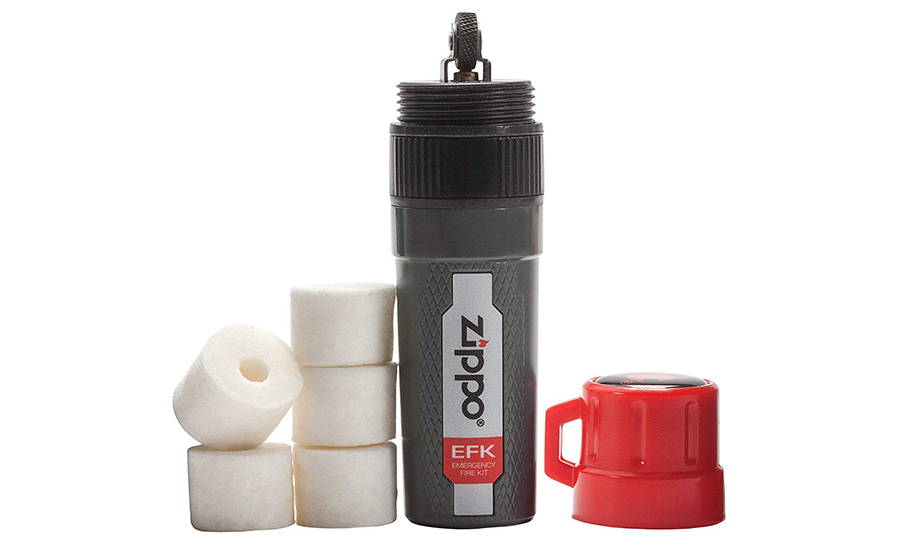 10. Extra Large Insulated Water Bottle
We all know how important it is to stay hydrated, and this is especially true when spending time outdoors in the Summer. Our top recommendation for drinkware is our Swig Life 30oz Insulated Bottle, for many reasons. First, its double-walled, vacuum-sealed and copper-coated insulation means maximum temperature control; this bottle keeps drinks cold for up to a full 24 hours, or hot up to 12 hours. The bottle features a twist-and-pour lid with a built-in carrying handle, as well as a slip-free silicone base, all of which are dishwasher-safe. Plus, the variety of patterns are sophisticated and stylish, making this bottle the perfect accessory for any "glamper".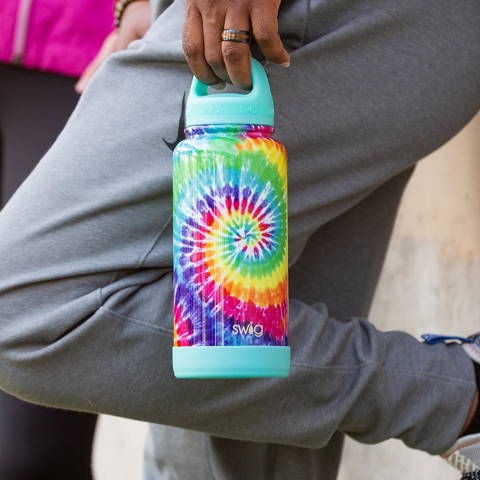 11. Solar Charging Station
You won't have to worry about your phone or other electronics running out of battery again - not when you use the Switch 10 Core Solar Kit from Goal Zero. This solar-powered kit allows you to quickly charge phones, cameras and other USB-powered gear without the need for an electrical outlet. A USB-compatible flashlight and personal fan are also included for when you need to find your way around at nighttime, or when you just need a little extra help cooling off.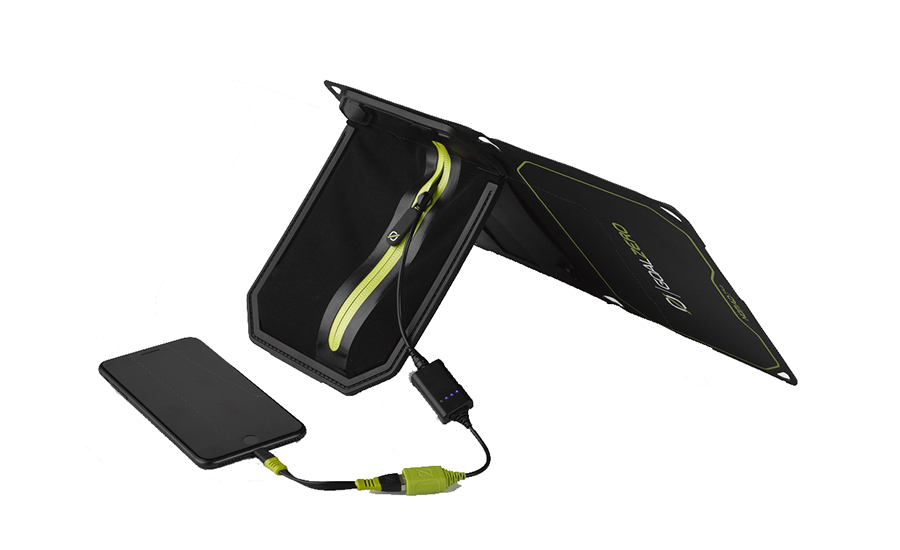 12. Portable Hot Tub with Massage Jets
Okay, this may be the most "extra" camping item on our glamping gear list, but who doesn't love a good soak in a hot tub? This Intex PureSpa Portable Bubble Massage Spa is big enough to seat four people and features 120 soothing bubble jets, a water-heating system, a convenient control panel and even a built-in hard water treatment to make water gentler on your skin. Also included are two replaceable filter cartridges for simple maintenance, an inflation hose for quick set-up and a carrying bag for easy storage and transport.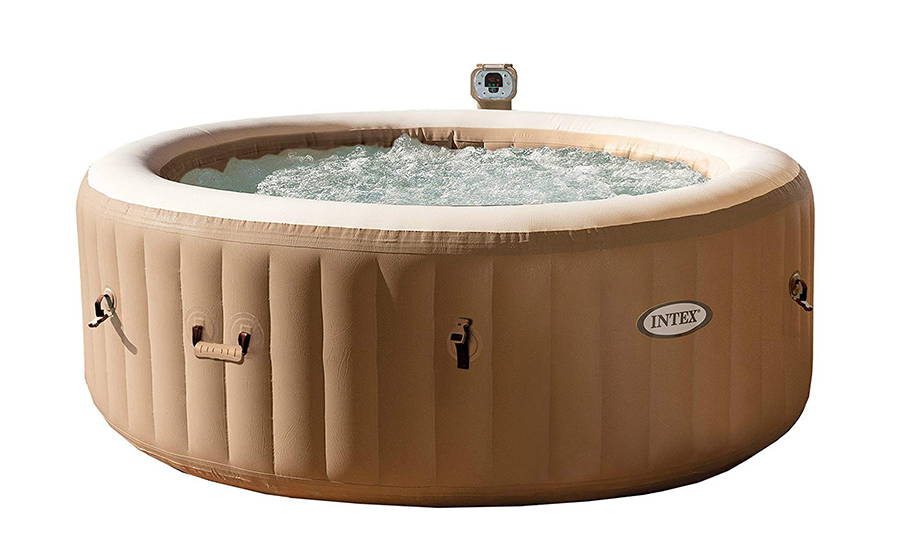 You've been warned - these gear recommendations may prepare you for the best glamping trip of your life!
Swig is Your Perfect Glamping Companion. Shop Today!