Posted on
There's nothing pretty about seeing stubborn stains on your favorite travel mug or reusable cup. Most coffee-holics have had to deal with the embarrassment of drinking from a stained cup (or trashing it altogether).
But you don't have to make that choice. Everything you need to get stubborn stains and grime out of your tumblers, reusable cup lids, and reusable straws is within reach or available at your local grocery shop.
Let's walk through the best ways to clean those dirty (or should we say, well-loved) drinkware.


How to Clean Your Travel Mug or Tumbler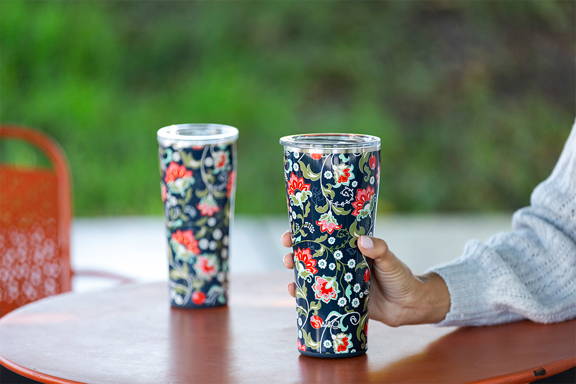 At Swig, we're no stranger to the world of travel mugs and tumblers. Coffee and tea can create nasty, hard to get stains that can even impact the taste of your drinks.
Here are a few ways to make your favorite reusable cup good as new:
A great solution for cleaning your stainless steel reusable coffee cup of any hard stains is by using baking soda.
To clean your mug:
Pour baking soda into the inside of your travel mug.
Slowly pour in warm water until the mixture forms a paste-like consistency.
Use a bottle brush or sponge to scrub the paste inside the bottle and on the lid.
Let it sit for up to 15 minutes.
Rinse away the mixture with hot water and set to dry upside down on a drying rack.
How to clean your reusable cup lids
It can be hard to get residue out of all the nooks and crannies of a silicone coffee cup lid.
The rubber seal of these lids can often be a breeding ground for bacteria. The good news? They're built to be taken apart, cleaned, and put back together easily.
First, try deconstructing and cleaning your lid as outlined in this video:
To further fight stains, try using the baking soda paste to clean your lid.


How to Clean Your Stainless Steel Bottle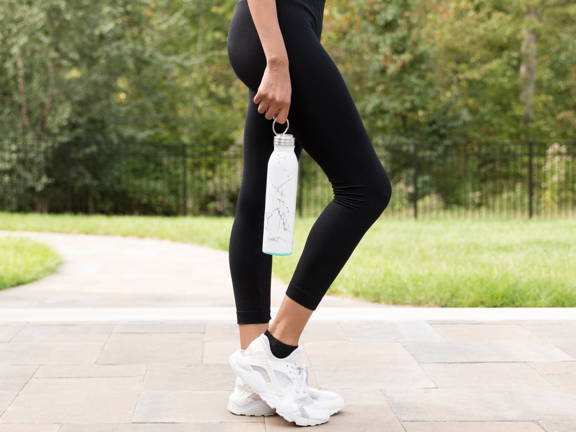 If you're like us, you take your water bottle everywhere. After a while, it's bound to get dirty.
Here's how to tackle the clean:
When it comes time to clean your favorite water bottles, make use of hot water. Boiling water will help lift bacteria and grime hiding in your stainless steel bottles. All you have to do is:
Pour boiling water into the water bottle.
Leave to soak overnight.
Clean well the day after with liquid soap.
Watch it shine!
Use diluted hydrogen peroxide
Another cleaning solution you can use to clean your stainless steel bottles is hydrogen peroxide. The agent is proven to eliminate bacteria and microorganisms lurking inside your bottle.
However, to use this safely, you must create a diluted mixture of hydrogen peroxide and water. To get started:
Rinse your mug with hot water.
Gather or make a hydrogen peroxide solution that is 35% hydrogen peroxide, 65% water.
Use a bottle brush to scrub and spread the solution inside your cup and lid.
Rinse the mug or water bottle with hot water and air dry.
Vinegar is an incredible cleaning agent for eroding grease, grime, molds, and other bacteria festering inside your mug or water bottle. To get started:
Add 2 tablespoons of vinegar into your mug or water bottle.
Close the lid and shake vigorously.
Add water until it's half full and use a brush to scrub any build-up.
Close the lid again and shake again.
Discard the water and rinse thoroughly.


How to Clean Your Reusable Straws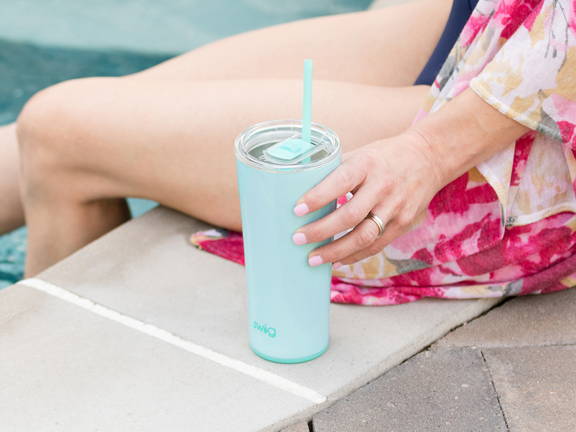 Straws can be hotbeds for dirt and grime to hide. If throwing them in the dishwasher isn't helping, try these steps to clean your reusable plastic straws with baking soda:
Grab a pot large enough to submerge the straws.
Fill it with water and baking soda
Place the straw inside and bring the water to a boil for 10 minutes
Let it cool and rinse with clean water.
Voila! You have sanitized straws.
There you have it. Whenever you encounter stains on your water bottle, travel mug, lids, or reusable straw—turn to this guide.
Find Your New Favorite Cup with Swig!