Posted on
Fall may be your last chance of the year to squeeze in outside time without worrying about snow or low temps. Check out our picks for fall outdoor activities sure to keep you moving and keep you safe!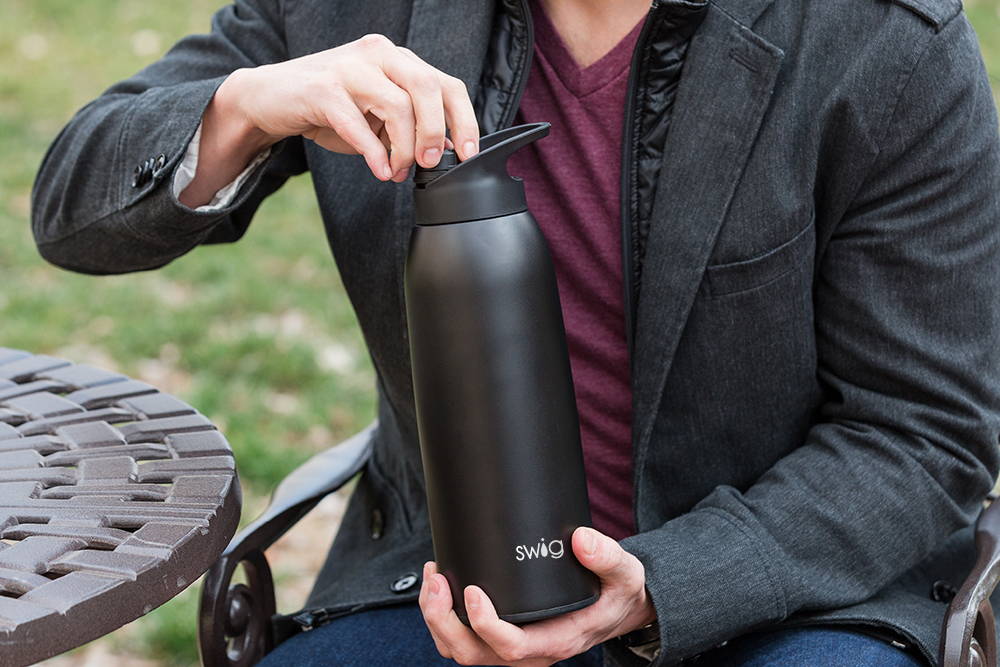 7 things to do in the fall while social distancing
1. Hit the trails
Autumn brings ideal temperatures and amazing views––making for the perfect hiking and biking season. Take advantage of local trails and explore the paths and summits your area has to offer.
To best stay safe while hiking, camping, or biking, make sure you're prepared with a mask. It's best to choose a place where the paths are wide enough to stay at least 6 feet apart from other visitors.
It's also smart to come prepared for any situation, especially when many restrooms or water stations that are typically available may be closed down. Fill up your own reusable water bottle before heading out (we're partial to these stainless steel beauties), and stay hydrated all the way to the summit and back.
2. Pick your own
U-pick farms are in full force, transitioning out of summer berry picking and entering into apple and pumpkin season! These spots tend to offer plenty of wide-open space for social distancing and allow for limited interactions with staff or other visitors.
When considering orchards to fruit pick at this fall, make sure they're taking protective measures towards space and crowd control so that customers can safely distance. Some farms are offering limited time slot reservations or requiring everyone to use hand wash stations before heading out to pick.
Many times, orchards will have mazes, walking trails, or farm animals to visit. Try to take full advantage of all the farms have to offer! And, of course, don't forget to bring home some delicious fresh fruit or pumpkins for carving.
Feeling even more pumpkin-inspired? Try experimenting with these delicious pumpkin drink recipes.
3. Nature-inspired crafting

Have you become a crafting expert this quarantine? If you tend to spend your days inside working fervently on the latest DIY candle or mosaic, try finding inspiration for your next project in nature!
The materials for your next craft could be sourced right from your backyard. By collecting common items like acorns, pinecones, leaves, and branches, you could transform them into everything from jewelry to ornaments.
Try this wind chime made from pieces of driftwood, or rings styled with pressed autumnal leaves and flowers. Fall nature is also perfect for decorative centerpieces. Dress up your dinner table with a glass vase filled with fall essentials: acorns, pinecones, and even natural berry vines.
4. Explore a new sport
Social distancing doesn't mean casual sports are out of the question. Classic games like tennis, golf, or frisbee are great to play at a safe distance with friends both in and outside of your circle.
You could also try keeping up a weekly sport to play outside with your family or quarantine pod. Games like Wiffle ball, soccer, and basketball are great low-equipment, high-entertainment choices for some healthy competition.
Alternatively, invest in the materials for more unique outdoor games like croquet or bocce ball. Getting into a routine with a game that everyone loves is a great way to structure outside time in a safe way.
When playing with people outside of your household, be sure to stay mindful of proximity and mixing teams.
5. Get to the garden
As temperatures cool, your garden may be slowing after a busy summer season. However, checking off some garden to-dos in the fall makes for an amazing spring season.
Some autumn prep that will keep your green thumb going include raking out leaves, cutting down bushes, planting spring bulbs, and revitalizing the soil.
There's also no reason to stop your planting, even in the fall months. Some amazing fast-growing crops include vegetables like lettuce, radishes, and onions––all able to be planted up until late September.
6. Geocaching
Picture a community-led outdoor treasure hunt. Add in GPS navigation and a sense of adventure and you get what is known as geocaching.
Geocaching first requires you to register in an online system (for free!) and enter in your current location. Then, the app will provide you with a list of geocaches near you. Choose from any of the options and follow the coordinates to the general location.
Once there, you hunt for the geocache itself, which is usually a container with a logbook and any number of items. Once located, you can sign the logbook and trade out another item for the one you found.
For best safety practices, be sure to wipe down any objects you leave or bring home from a cache and sanitize your hands frequently!
7. Stargazing
Feel like your space knowledge is limited to pointing out the big dipper? Dive into the intricacies of the night sky and elevate your stargazing game this fall. No telescope needed––just you, your eyes (or a set of binoculars), and a clear night!
Autumn is one of the best seasons to go stargazing. With shorter days, there's more time in the day for darkness, and more opportunity to observe some true celestial wonder. Depending on your proximity to a city, visibility will vary. Try getting to a location with less light pollution for exposure to more constellations.
Another tip for beginner star gazers is the Star Walk app. When the app is open, you can point your phone to the sky and it will help to identify the stars, planets, and constellations in your exact area.
No matter how you choose to spend your time, try doing it outside this fall! From these activities and beyond, there are so many ways to enjoy the season while also keeping yourself and others safe.
---
Opting for a reusable water bottle can help protect the planet and keep our outdoor spaces clean. Read more by visiting our latest blog post, here!


And while you're exploring around outside...
stay hydrated with a Swig!