Posted on
Drinking tea is a long-standing practice rooted in tradition, culture, and even medicine.
Teas have antibacterial, antiviral, and antioxidant properties shown to enhance your health and immune system. There are even studies suggesting certain teas may help in preventing weight gain, diabetes, heart disease, and increased cholesterol.
While teas aren't professional medical replacements, it's always nice to know you can take steps to boost your health with only a cup of nice warm tea.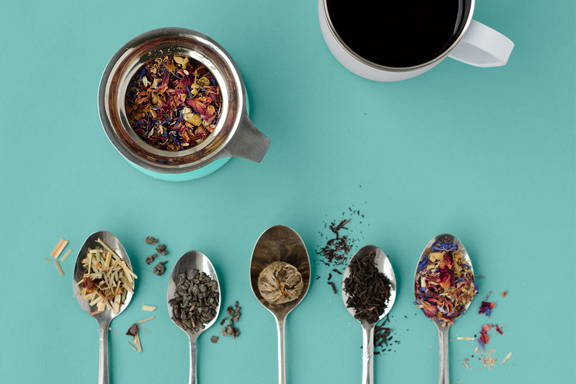 From stress relief to liver health, we've compiled some of the best teas for your overall health. Check them out!
Best Tea for Mental Health
For many, taking the time to drink a cup of tea is a form of self-care. In fact, research shows that the act of drinking tea can lower cortisol, a stress hormone.
But did you know that certain teas are better than others at soothing stress and anxiety? Some of these specific flavors and blends include:
Chamomile
Lavender
Peppermint
Valerian root
Lemon balm
Gotu kola
Green tea
Passionflower
Holy basil
Turmeric
Ashwagandha
Ginseng
Rose
Fennel
Licorice
Rhodiola
St. John's Wort
To make your own spa-in-a-mug tea blend, try the following recipe:
Feeling mentally drained or just plain stressed out? This tea from The Healthy Maven may be what you need. A stress-relieving formula, this tea is a great way to set the tone for your day.
To get started:
Combine ½ teaspoon dried eleuthero root, ½ teaspoon dried lavender, 2 teaspoons dried holy basil, 1 teaspoon dried chamomile, and 1 teaspoon dried lemon balm into a tea infuser.
Pour hot water, cover, and steep for 20 minutes.
Remove infuser and cover cup.
Add some sweetener like honey and sip. Instant zen!
Best Tea for Liver Health
Certain teas have been known to improve liver health, and even work to prevent the chance of liver diseases from occurring. Several studies show that tea drinkers are less likely to develop liver-related diseases such as liver damage, liver cancer, and overall liver health.
Some of these liver-supporting herbs include:
Ginseng
Licorice
Green tea
Garlic
Turmeric
Ginger
Ginkgo biloba
Milk thistle
Our favorite recipe for a liver-supporting tea blends is as follows:
Squeeze a lemon into a jar and chop the peel into small bits
Grab a saucepan, add water, lemon bits, and 1 tablespoon of grated ginger.
Allow it to boil and let it simmer for a minute.
Allow it to cool a bit before adding the lemon juice.
Strain the mix into your favorite cup.
Best Tea for Heart Health
Tea can help to maintain your heart health by easing inflammation, reducing cholesterol and blood pressure, promoting circulation, and supporting hydration.
In one study, researchers found those who drank tea habitually saw a 56% lower risk of heart disease than those who did not. This was mainly attributed to compounds found in black and green teas!
Try brewing a cup of your favorite green or black tea a few times a week to support your heart health. Other teas great for heart health include:


Best Tea for Digestive Health
Due to their anti-inflammatory properties, many teas can help soothe the stomach and improve digestion. Certain tea-types specifically shown to support the stomach include:
Black tea
Dandelion root
Chamomile
Ginger
Licorice
Green tea
Oolong
Peppermint
Try this recipe to prevent bloating and soothe the stomach:


After-Dinner Belly-Soothing Tea
Ate too much and feeling that indigestion creep in? We can relate. This herbal remedy from The Kitchn is perfect for that post-meal discomfort.
To get started:
Add 1 teaspoon dried peppermint leaves, 1 teaspoon dried lightly crushed fennel seeds, 1 teaspoon dried chamomile leaves, ½ teaspoon dried cut ginger into a tea infuser.
Pour boiling water over the mix. Cover it and let it steep for 10 minutes
Remove infuser, sweeten, and enjoy!
Teas look and taste better with a Swig. Shop Now!