Wedding showers bring many of the most important people in your life together. With guests ranging from grandmothers to party-fanatic bridesmaids, it may be hard to find wedding favor ideas that show your loved ones how much you care while pleasing the whole crowd.
Our picks of the perfect wedding shower favors are based on three key traits:
• Usefulness – Is the gift practical? Can its use extend past the wedding?
• Wedding relevancy – Does the gift relate or tie into the wedding?
• Originality – Will your guests be left with something unique?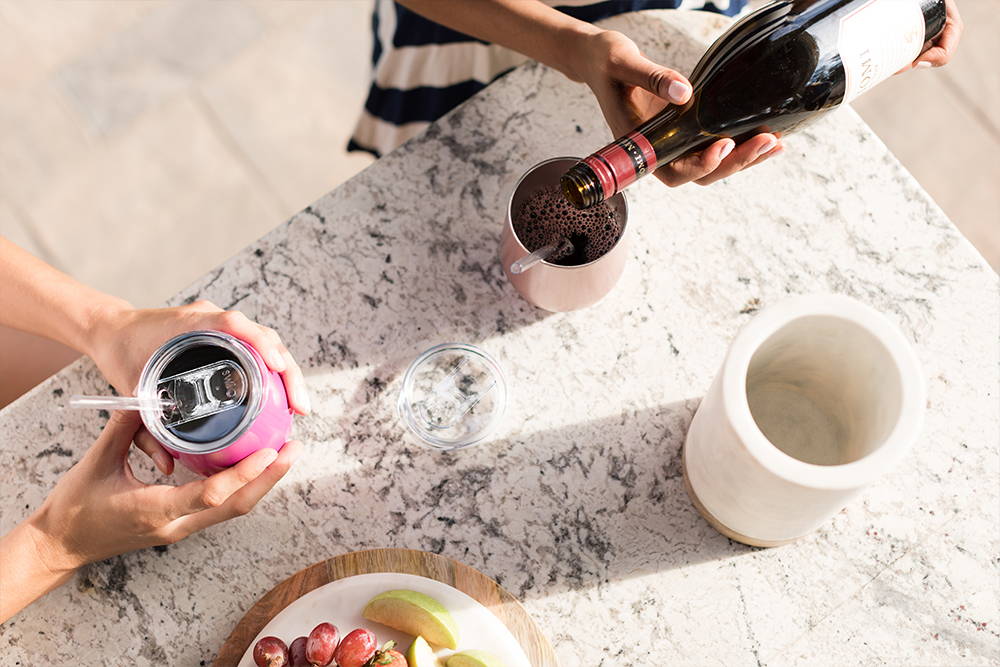 Swig's Guide to Wedding Shower Favors
Weddings are about celebration and thanking those that have helped along the way. We know choosing the perfect gift can be hard, so here are our picks for the perfect wedding favors that are sure to impress and show your thanks.
1. Emergency wedding kits
Everyone needs a little extra backup for the big day, guests included. Try setting out a grab-bowl of mini "Emergency Kits" at your shower. Need stain remover? Safety pins? Deodorant? You're covered. These tiny personalized bags and tins range from Mother of the Bride essentials to a pocket-sized "Wine Night" package (just add alcohol!).
Guests can bring these along to the wedding and be prepared for anything to come day-of. Try buying a variety of pouches depending on your guest list and have friends and family grab the ones that they think they'll need the most!
2. Crazy straws
Personalized straws are a great eco-friendly gift that will live on long after your wedding shower ends. Krazy Straws creates reusable personalized straws in the shape of your guest's names or you can request your own unique design!
Or, try our stainless steel straw set! All packed up in a cute carrying case, these straws can easily be brought along for wedding-day cocktail hour! Big points for originality and great for photo ops, too!
3. Personalized coasters
Coasters can double as wedding shower table decor and a take-home gift for guests! These cute rounds bring the spirit of your wedding to any tabletop. Try personalizing them with the newlyweds' names, wedding date, or a quote you love. Take your pick of coaster style: cork, glass, wood, and more.
4. Matching Wedding Koozies
Keep the party drinks flowing and chilled with a can cooler! A koozie adds style to any drink – from beers to spiked seltzers. Plus, our triple insulation technology will keep your drink of choice cold for up to 12 hours.
For the best wedding koozies, buy your guests matching coolers with a fun pattern or color that fits your theme. Friends and family will be using these to cool and style their drinks through the entire wedding season and beyond!
5. Live succulents
Pepper your party table with small plants and let guests grab one on their way out! Succulents are an original and low-maintenance plant that any guest will love to bring home. Plus, they add a sweet, natural decoration to your wedding shower. To personalize the pots, try making a homemade plant tag showcasing your wedding date to stick in the soil.
6. Nail polish collection
Mini nail polish bottles are a great and useful favor for wedding shower guests. Choose a few key shades and package them for a giveaway in sheer jewelry bags or tie them together with a ribbon. Every time your guests use this gift, they'll think of your special day.
Pro tip: Buy shades that match your wedding's color scheme and encourage guests to wear them on the big day!
7. Fun Shades
Silly sunglasses are the perfect accessory for any wedding shower photo op. Try romantic heart shape glasses or monogrammed shades with your wedding info on them. They're perfect for summer weddings and can even be used on any given beach day!
These gifts are the perfect mix of unique and practical that will leave your guests gushing and wedding ready. Whatever you choose to give as a favor, your loved ones will know you care and feel appreciated.
---
Need to cool off by the water? Check out our must-haves for a day by the pool.


Swigs are perfect for any guest! Get yours, now!