Posted on
Next on your list of Zoom parties? A fun and professional wine tasting at home. Virtual wine tasting parties are perfect for any occasion—from work events to birthdays to bridal showers and more.

Hosting a wine tasting party online requires some serious prep. Lucky for you, we're here to walk you through the basics. So grab a glass of wine (for research purposes, of course), and let's get started!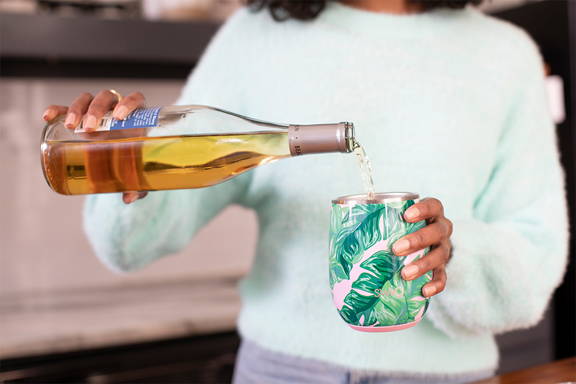 How To Host A Virtual Wine Tasting Party At Home
First things first: notify your guest list of the upcoming wine tasting (AKA the event of the century). After finding the ideal date, be sure to send a physical note or e-vite, and choose your preferred video hosting platform.
Once the date is set, the rest can fall into place. Be sure you give yourself enough time before the event to research wines, order the goods, and do any other necessary party planning.


2. Find a Sommelier (Or Learn the Ropes Yourself!)
The event is officially in motion. Your next step? Determining the format of your virtual wine tasting.
Do you want the wine tasting party to be a casual sipping session between friends? Or, would you want a guided tasting where you and your guests can learn about different types of wine and how to sample them?
Some companies offer a full-service wine tasting at home package—including a set list of wines and a virtual sommelier to join your call. If you decide to leave your event up to the professionals, check out the virtual wine tasting offerings at companies like Priority Wine Pass and BottlesNation.
If you're more of a DIY person, you can easily lead your own virtual wine tasting party with a little research. After selecting your wines, do some research into how to properly taste wine and the different flavors to look out for.
What's a virtual wine tasting without wine? Your next step is to select which wines the group will be sampling at the event.
If you're working through a professional service, they will often recommend a selection or allow you to choose from a set list. If you're flying solo, you have a little more flexibility on what kinds of wine you choose and where you purchase them from.
Try asking attendees to submit a list of their top wine selections. Then, you can determine the final wines based on the most popular votes. We recommend choosing at least three distinct wines for a true wine tasting lineup.
After selecting the wines, it's important to make sure everyone is able to gather the bottles for the night of the event. If you're going through a service, they will often ship out necessary supplies to each attendee's address.
Otherwise, you'll need to ensure every guest is able to get the same bottles on time for the event. For maximum ease, you could take advantage of alcohol delivery services like Drizly or Winc. This way, guests can get the correct bottles without even leaving the house!
Other essential materials for a successful wine tasting at home include notepads or tasting sheets, and of course, wine glasses or cups.
If you're looking to get your guests a party favor, stylish wine cups are a perfect choice! Send everyone matching wine cups, and toast with them on the night of the event. To friendship!
Before the day of the party, you need to test your tech. First, decide if you want to use a tablet, laptop, or smartphone during the party.
If you're going to be moving around your room, a smartphone is best. If you're going to stay put, opt for a laptop or tablet with a stand.
Remember that some of your friends may not be tech-savvy. It is your responsibility to patch them through and make sure everyone is connected and ready to sip!
At soon as everyone's connected, it's time to get the party started. While a virtual wine tasting is often informational, the priority should be to have fun.
Get everyone involved and active in the tasting, and be sure to share your reviews on each wine before moving on. Everyone can write notes and compare thoughts throughout the tasting.
Finally, be sure to raise a glass and toast to your hard work—virtual wine party planning is no easy feat!
Get your party on with Swig!