Posted on
With everything that 2020 has thrown at us, there's no better time to be grateful for what we have than on Thanksgiving. Often, what we're most grateful for is our family, or whoever we get to share the holiday with.
There's always something to look forward to on that fourth Thursday in November: family, friends, tasty drinks, and great dishes. Oh, did we forget to mention the infamous turkey?
Every family celebrates Thanksgiving differently. This year's holiday is bound to take a different form with coronavirus preventive measures still in place. But who says you and your family can't continue the Thanksgiving tradition fun—all while staying safe?
We've curated some of our favorite, fun Thanksgiving traditions that we love (and you'd love, too). Let's jump in!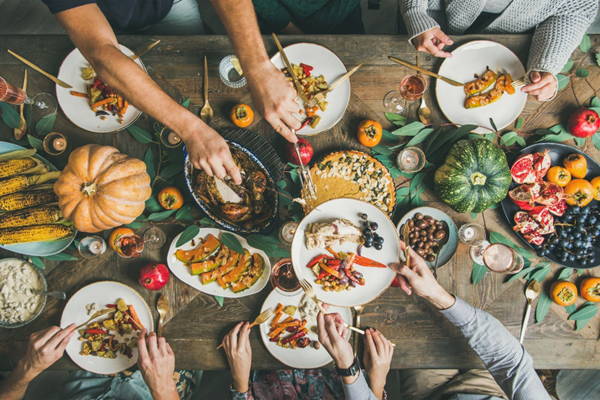 Swig's Picks for Fun Thanksgiving Traditions
1. Connect virtually with family members far away
Due to social distancing and travel bans still in place, you may not have a full house this year. While any large family gatherings may be minimized, what's stopping you from having a fun-filled experience by throwing a virtual gathering?
Family members who can't make it home can connect online, video calling in from wherever they may be to join the fun. So, raise a glass this year and share your toasts virtually!
2. Ask everyone to write down what they're thankful for
For some, it may be difficult to express exactly what Thanksgiving means to them on the spot. This year, try asking everyone to write down what they're thankful for (if you can find time among the preparation frenzy). This allows for more intentional reflection instead of just…winging it.
After everyone has taken time to write one, take turns reading the responses out loud! After everyone reads, you can keep the papers in a gratitude jar and come back to them whenever you need a pick-me-up!
3. Binge-watch holiday movies
Thanksgiving is an opportunity to catch up with your loved ones and spend quality time under one roof. However, sometimes there's nothing better than to just sit down and watch a classic holiday movie.
Stock up on snacks, drinks, and cozy blankets to create the perfect movie-time ambiance. With can coolers to keep your beers cool throughout the duration of the movie, you're bound to have the best viewing experience. If you do the screening post-dinner, be careful not to slip into a food coma!
4. Let the kids serve dessert
Why should the adults do all the work? Keep the kids from feeling left out and get them in on the dessert festivities. Whether they help in the kitchen with the baking or take charge on dishing out the pie, find a way to get them involved in dinner.
More often than not, you'll find that they appreciate the gesture and cherish the experience and memories that come with it.
Keep a safe distance…well, just in case of spills.
5. Dine outside if it's convenient
If the weather in your city or town is friendly, you should consider hosting Thanksgiving dinner in your backyard, lawn, or porch.
Sharing a meal while surrounded by nature can be a unique and unforgettable experience that makes for a great tradition. Plus, it's way more COVID friendly!
Another Thanksgiving tradition that we love is as simple as it is sweet. This year, take time to share stories at the dinner table. Studies even show that families who share stories connect on a deeper level than those who don't.
Ask the older folks to share some of their favorite family memories. Then move down the list by age. This is bound to create a unique bonding experience that will live on even after the magic of the holidays is gone.
7. Take a group photograph
It's so easy to forget to take a group photo during Turkey Day. But to preserve all of your special memories, be sure to gather everyone before, during, or after dinner to take pictures that you can cherish forever.
Make it a tradition to remember by having a themed photo—with a different, group-chosen theme each year. You could even hire a socially distant photographer to professionally capture your day!
Thanksgiving is the best time of the year to take a step back and give thanks for your loved ones. With these traditions, you can start the festivities off on the right foot.


Head into the Holidays With Products You Can Trust. Shop Swig!