Posted on
There's no greater feeling than guzzling hot chocolate in your favorite mug on a chilly day.
But sometimes, instant cocoa mix just…falls flat. Wouldn't it be nice if you could make your own hot chocolate from scratch?
Well, we've got you covered. We compiled 5 different ways you can prepare hot chocolate at home; no Swiss Miss required.
What are you waiting for? Ramp up your hot chocolate game with these recipes:
Swig's 5 Best Homemade Hot Chocolate Recipes










1. The Classic Hot Chocolate
This homemade hot chocolate recipe is the perfect companion for snowy nights. You can whip this up for you and your family in a couple of minutes. To get started:
• Mix 2 tablespoons of brown sugar, 2 tablespoons of cocoa powder, and 5 oz of your favorite chocolate into a saucepan.
• Pour in 4 cups of milk and set the saucepan to medium heat.
• Allow it to simmer and mix until the mixture is hot and smooth. This typically takes about 5 minutes.
• Add 1 teaspoon of vanilla and a pinch of salt.
• Pour into your cup and top with cocoa dust or whipped cream. Or both!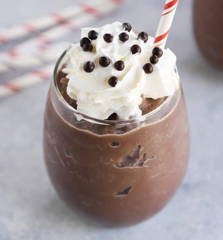 Photo Credit: Mel's Kitchen Cafe








2. Frozen Hot
Chocolate Recipe
Who says hot chocolate has to be, well, hot? This one's for all those iced-coffee-even-in-0-degree-weather enthusiasts. We present: Frozen Hot Chocolate. To fix this super simple sweet drink:
• Pour 1.5 cups of chocolate milk, 1 cup of hot chocolate mix, and 3-4 cups of ice cubes into a blender.
• Blend the mix until smooth.
• Pour the mix into your vessel of choice and garnish it with chocolate shavings or whipped cream.










3. Creamy Crockpot
Hot Chocolate Recipe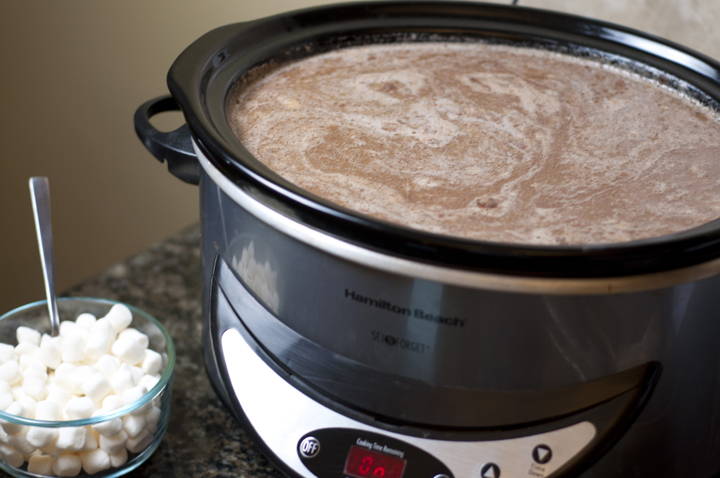 Photo Credit: Wishes and Dishes
Get your Christmas groove on with this flavorful, homey crockpot hot chocolate recipe. Given this is a crockpot recipe (meaning you turn it on and leave it be), this hot chocolate takes a little longer than usual to prepare. But trust us, it's totally worth the wait. To whip this up, do the following:
• Mix 1 teaspoon of vanilla, 6 cups of milk, 1.5 cups of heavy whipping cream, and 2 cups of chocolate chips into a crockpot.
• Cover the crockpot, set the heater to low, and cook the mixture for 2 hours. Stir occasionally.
• Once the mixture is melted and hot, turn the heater to the warmer setting.
• Stir the mix again before serving it. You can opt to garnish each cup with marshmallows or whipped cream.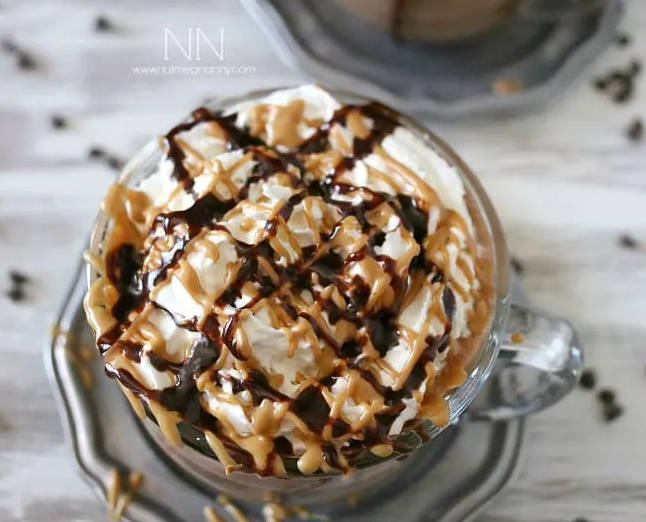 Photo Credit: Nutmeg Nanny










4. Peanut Butter
Hot Chocolate
Ever had hot chocolate flavored with the goodness of peanut butter? Talk about an epic flavor duo. Well, now's your chance. To whip up this unique recipe, do the following:
• Add ½ cup of chocolate morsels, ¼ cup of creamy peanut butter, and 1.5 cups of whole milk into a saucepan.
• Warm over medium heat until all the ingredients are melted and creamy.
• Top with whipped cream, peanut butter drizzle, and chocolate sauce. Divine!










5. Peppermint White
Hot Chocolate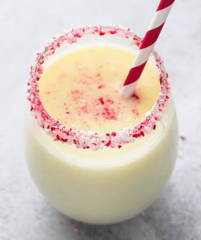 Photo Credit: Creme De La Crumb
Another essential homemade hot chocolate recipe to try: this peppermint white hot chocolate recipe. For some people, milk or dark chocolate doesn't cut it. If you crave the unique taste of white chocolate, try this quick and easy recipe:
• Mix 3 cups of cream and 3 cups of milk into a saucepan. Set the heater to medium heat.
• Stir the mixture until hot.
• Set the heater to medium-low and pour 1.5 cups of white chocolate (chips or chunks) into the milk mixture. Stir until it is melted and blended.
• Add 1 teaspoon of peppermint extract and 1 teaspoon of vanilla extract and stir.
• Rim your glass with crushed candy and pour the mixture. Enjoy!
Homemade hot chocolate is just the thing to warm you up this holiday season. With these recipes at your disposal, winter just got a little more interesting.
No Hot Chocolate is Complete Without the Perfect Swig.
Shop Today!