Sometimes the only remedy for a long hot day is the pool. Before you head out, you'll need a few things to take your classic summer day to the next level. Here are our must-haves for the ultimate day of sun and relaxation.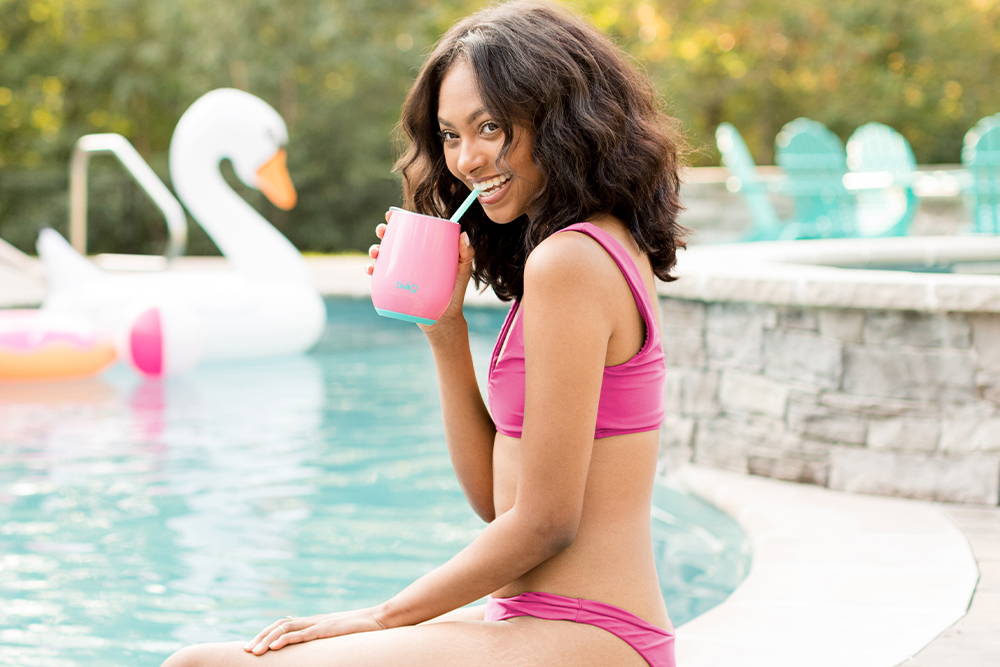 5 Poolside Ideas for the
Perfect Summer Day
1. Keep your drinks nearby
It's important to stay hydrated during the summer months. Higher temperatures and exposure to heat can cause dehydration. These perils coupled together can cause heat cramps, heat exhaustion, and sunstroke. Load up on liquids and keep them within reach.
If you're looking to get fancy, add fresh fruit to your drink or opt for seltzer over still water! Whatever you decide, kick your drink game up by housing your beverage in a Swig! Our cups are triple insulated to keep your drinks cold for up to twelve hours and they're dishwasher safe! Check out our can coolers and tumblers, today!
2. Easy pool party recipes
A perfect pool day is nothing without great recipes. This doesn't mean you have to go into Master Chef mode––keep it light and simple to avoid spending all day in the kitchen so you can maximize your time outside.
Summer means fruit, fruit, and more fruit. (It's peak season for many: melons, berries, cherries, mangos, peaches, plums, and more.) Something as simple as fruit and cheese skewers can utilize these seasonal ingredients and provide an easy and healthy snack.
When it's time for dinner, take a short walk to the grill and try the unsung hero of outdoor eats: grilled pizza! Wrap up your self-care day with this summer twist on comfort food. The grill isn't just for barbecuing meat. Consider expanding your grilling repertoire and throwing something new on the coals, (like pizza!).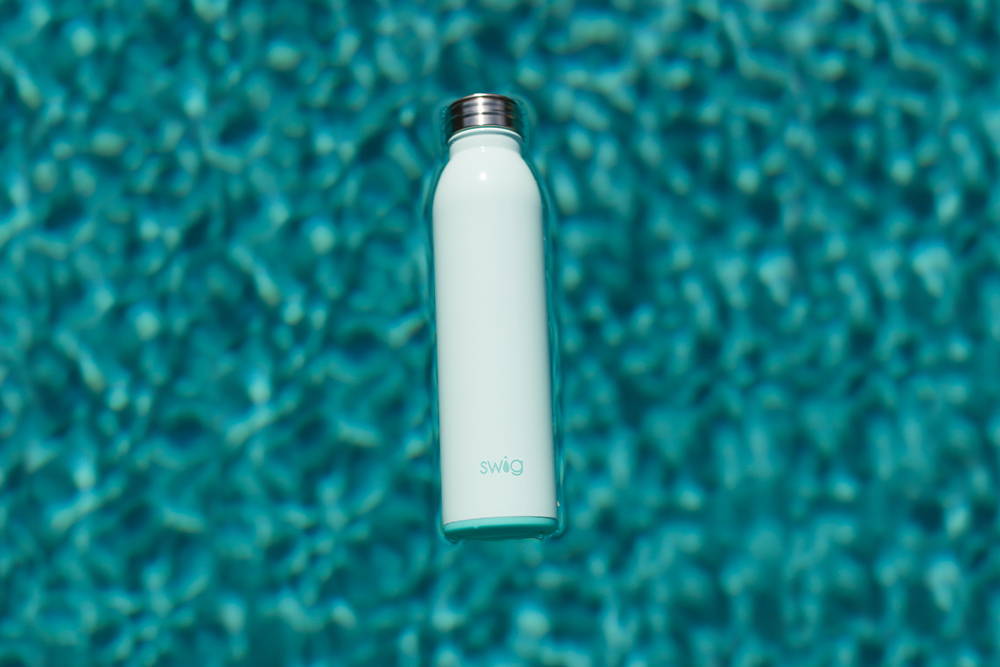 3. Perfect your summer reading list
Drink in hand? Check. Snack by your side? Check. The only thing missing is a good book! Summer is the most fabulous time to pick up a book and get lost in a great story.
Literary Hub analyzed all the reading lists out there to make the ultimate compilation and a clear winner emerged: The Vanishing Halfby Brit Bennett. Topping multiple summer reading lists, this book centers around "black identical twin sisters who grow up to lead very different lives when one abandons her hometown and her culture to pass for white," as noted in The Washington Post.
Remember those summer reading programs as a kid—read five books and you get a sticker? Well, adults are starting to get in on the fun, too! Many libraries across the country are opening summer reading programs geared towards adults. Check your local branch to see if they're participating.
If you're a voracious reader, try a book-of-the-month club subscription or continue patronizing the shelves of your local library.
4. Find your float
When it's time to finally take a dip, do it in style. We recommend a dinosaur pool float but the call is yours to make. Fun pool floats have taken over Instagram. Browse online or in-store to find one that best fits your personality and pool needs.
From donut holes to floats that let you play in-pool beer pong, there's a floaty for everyone. Need help deciding? Let this BuzzFeed quiz decide for you!
5. A poolside playlist
Bring everything together with the right playlist. Atmosphere is everything and music can ensure a serene vibe all day. Even if you find just one perfect song, free streaming sites, like Spotify and Pandora, will keep similar music going all day!
Consider investing in a waterproof speaker to keep the tunes flowing, risk-free. Cannonballs welcome! While you're picking up pool-proof materials, consider purchasing one of our insulated, stainless steel wine cups and flutes if you love to sip wine while you float on.
If you tried any of our tips, let us know! Tag us to your photo on Instagram, @SwigLife!
--
Looking to get your father something special? Check out our gift guide for dads!
If you're in need of an upgrade to your can koozie, look no further. Wrap your poolside drinks in a fabulous, triple insulated, stainless steel can cooler!

Our picks for pool-friendly Swigs!