Posted on
Firepits are not just an outdoor accessory; they provide a central point for family gatherings and time in nature. As temperatures cool, it's the perfect time to host a bonfire night with your loved ones.
Here at Swig, we know that firepit hangouts are never complete without the signature campfire-friendly foods (and cocktail-filled tumblers to match).
But s'mores aren't the only thing you should be cooking over the fire this season. Instead, try these incredible fire pit recipes sure to add to your next bonfire night experience.












1. Marinated Chicken and Onion Kebabs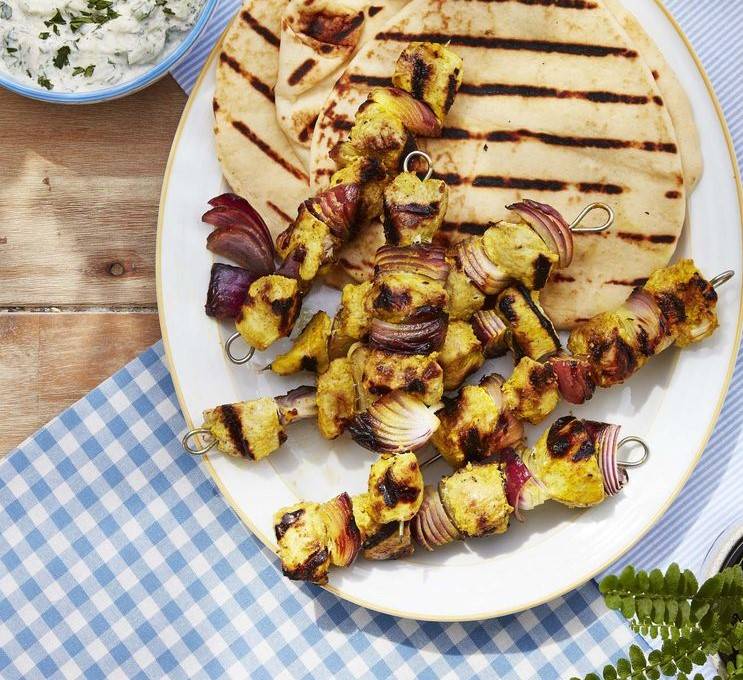 Photo Credit: CountryLiving
This tasty recipe from Country Living is a bonfire night delicacy waiting to be made. By investing in a grill grate for your fire pit, any recipe can be transformed into an outdoor cooking adventure.
1. Mix garlic, ginger, turmeric, yogurt, lemon juice and zest, salt, and pepper into a bowl.
2. Add chicken and stir gently.
3. Allow the mixture to marinate for 15 minutes.
4. Oil your grill grates and warm them over the fire.
5. Place red onion slices and chicken on a skewer, warming it over the fire until cooked.
6. Enjoy right off the stick!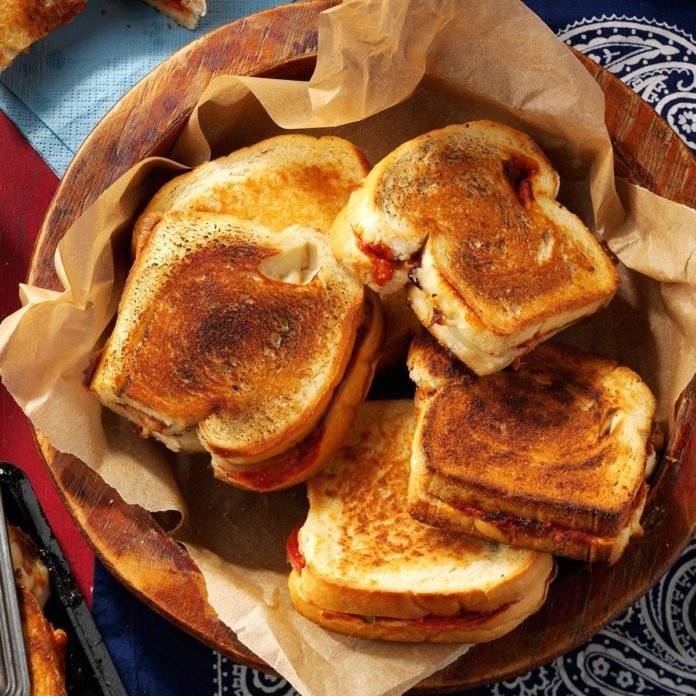 Photo Credit: Taste of Home
Mountain pies are a bonfire classic. These hot sandwiches can be made using any fillings you'd like, and are traditionally cooked over the camp fire in a cooking iron.
To whip up this pizza version of the hot sandwich, check out this recipe from Taste of Home.
1. Spread butter over 2 slices of bread.
2. Place slice 1 butter side down in the iron and spread the other side with pizza sauce, cheese, and your favorite pizza toppings.
3. Cover with your second bread slice, close the iron, and cook over the fire.
4. Turn the iron frequently. After 3-6 minutes, your sandwich should be ooey-gooey and golden brown!
What goes better with pizza than drinks? Keep all of your guests' drinks cool with our Party Tub.










3. Campfire Crescent Dogs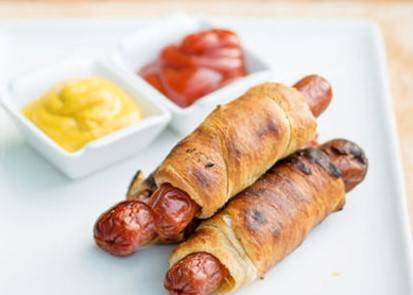 Photo Credit: Tablespoon.com
Roasting hot dogs over the fire is a marker of a great bonfire night. However, not all hot dogs are created equal. We've got the ultimate hot dog firepit recipe sure to knock your socks off - all you'll need is a tube of crescent roll dough, hot dogs, and the toppings of your choice!
1. First, spread crescent dough into triangles on a flat surface.
2. Place hot dogs at the edge of the dough and roll so that the dough covers a majority of the hot dog.
3. Skewer the covered dog with a stick and turn it over the fire until golden brown.
4. Serve up hot with ketchup, mustard, cheese—anything you'd like!
Swig Tip: Don't place the skewer to close to the flame to get the most even cook and color.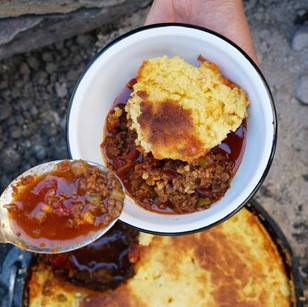 Photo Credit: Honestly Yum

If you're looking to prepare something fancy for your guests and family members, this Camp Chili and Cornbread recipe is sure to please.
1. To get started, place a Dutch oven over your firepit until hot.
2. Then, cook ground beef in the oven until browned.
3. Add onions, bell pepper, and garlic. Continue to heat until the veggies are softened.
4. Add your spices and tomatoes—chipotle powder, chili powder, diced tomatoes, and tomato paste.
5. Optional: add a can of beer and beans, cook for another 10-15 minutes.
6. On the side, make a box mix of cornbread and add mix to the top of the chili.
7. Cover the Dutch oven and cook for 10 minutes.
Whether you're drinking with beer or cooking with it, be sure to pick up one of our can coolers to keep the drinks flowing--and cool--all night long.








5. Campfire Banana
Boat S'mores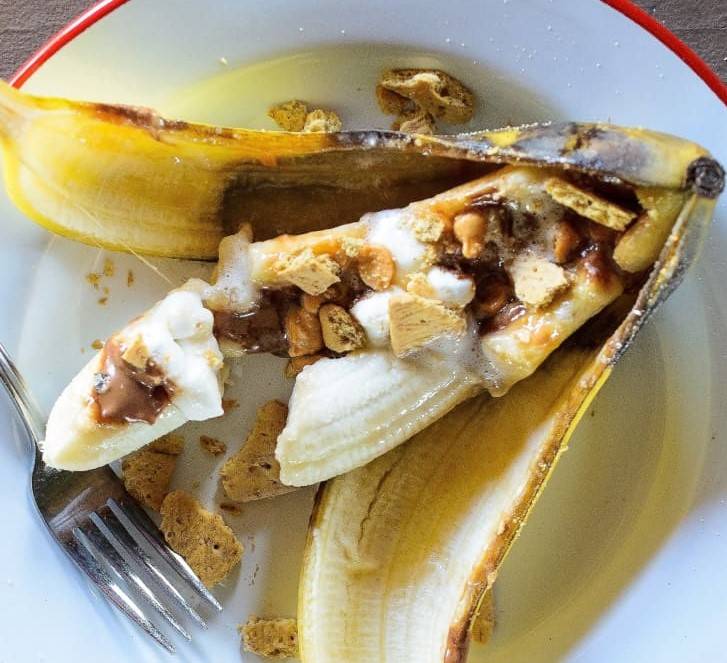 Another classic but tasty bonfire recipe you need to try is Banana Boat S'mores. To prepare this treat, grab bananas, marshmallows, graham crackers, and your favorite chocolate.
1. Cut a slit in each banana and open the banana peel slightly.
2. Remove a few chunks of the banana and fill the space with marshmallows and chocolate.
3. Close the banana skin over the filling and cover the entire banana in foil.
4. Place the bananas on the firepit grill or directly in the fire for 5 minutes or until the skins blacken.
5. Remove carefully using tongs. Let cool.
6. Sprinkle crushed graham cracker over your banana creation. Enjoy with a spoon!
Hosting a fire pit gathering in your backyard is a great way to connect with your family and friends. With these tasty DIY fire pit recipes, you'll have happy guests and a clean kitchen!
Make bonfire night more with stylish with Swig!