Posted on
Spring Break should be about one thing and one thing only: having fun. It's an opportunity to create awesome memories with friends and family in the sun after a bleak period of cold.
Due to ongoing social distancing measures, we might have to put a rain check on the typical spring-break-go-wild-travel plans. But staying local for spring break doesn't mean your break has to be any less fun or exciting.
We've compiled some of the most creative and fun things to do for spring break—no travel necessary.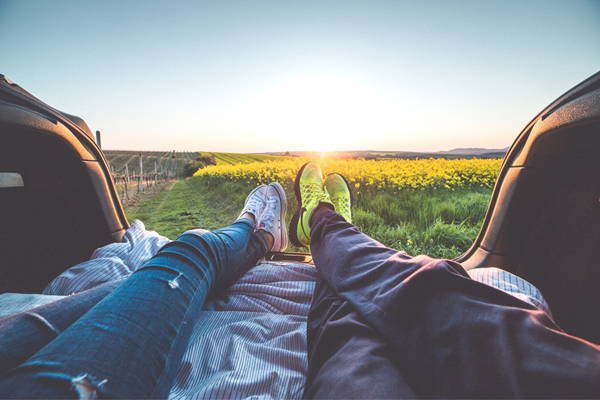 Swig's Spring Break Staycation Ideas
1. Go camping at a campsite (or your backyard!)
Spring break presents an awesome opportunity to go camping with your pod, friends, or family at a local campsite. Stock up on your camp essentials (like these campfire-ready recipes) and hit the trails!
If no local campsites are available, try the closest possible outdoor spot: your backyard! Camping in your lawn—or even your living room—can make an ordinary day feel like an adventure.
2. Plan a local scavenger hunt
Great for both kids and adults, scavenger hunts are a way to test the mind and stay active this Spring Break. Try creating a custom scavenger hunt in and around the home—you can plant hidden clues and set prizes.
Or, explore your local town or city with a fun scavenger hunt! This is a great way to see new parts of your town (or just see them in a new way).
Not super creative? ScavengerHunt.com offers pre-maid scavenger hunt adventures fit to your city, or any location for that matter!
3. Redesign a room in your house
This brings a whole new meaning to spring cleaning. Spring Break is the perfect opportunity to try your hand at some interior decorating.
Take this time to declutter unnecessary items, rearrange your essential items, buy new accessories, and repaint. You can even choose one room to completely overhaul and go wild!
4. Create an at-home spa experience
While you remain indoors, dedicate some time to self-care with an at-home spa experience. Treat yourself to some delicate and soothing spa care. It doesn't need to be as elaborate as the spa or salon you'd usually frequent, but it can be just as soothing.
Try making your own face masks, or transforming your tub into a bath-bomb haven for Netflix watching.
5. Foster a pet
Fostering a pet is a great way to have fun at home while also supporting your local community and its pets in need.
Pay a visit to the local humane society or adoption center and see if any pets need fostering. Fostering is a short-term commitment—perfect for Spring Break! Just don't fall too in love and adopt them all!
6. Take an online art or cooking class
Take advantage of the wonders of online classes and learn a new skill this Spring Break.
So many services now offer fully virtual classes in activities like cooking, ceramics, painting, baking, and more. You either purchase the materials first, or they send you them in the mail!
Explore websites like Domestika and Skillshare for a variety of virtual classes to explore this Spring Break. From cake decorating to animation, the world is at your fingertips!
7. Explore a local museum
Are you a lover of history and arts? Are you interested in the origins of your local area? A visit to your local museum is what you need this Spring. As with any in-person visit, remember to do it safely.
As they've begun to reopen, many museums offer appointment slots so attendees can maintain social distancing in the space.
Not ready to leave the house? Explore any museum (local or not) from the couch! From the Guggenheim to the Picasso Museum, virtual tours are now available and all the rage.
8. Plan a movie marathon
If you want to spend Spring Break on the couch, we won't judge. Some good ol' binge-watching never hurt anybody. Catch up on your favorite TV shows and Oscar-worthy flicks while you curl up indoors.
Make it a social event by bringing in friends for an in-person or virtual viewing party! Everyone can pick one show or movie, and it gets added to the binge-watching list! Just don't forget the drinks.
9. Unleash your inner bartender
What's Spring Break without a few cocktails? Bring the beach home by learning to make the perfect Pina Colada. Try out this recipe from Thrillist:
1. Mix 2.5 oz rum, 6 oz pineapple juice, and 3 oz Coco Lopez into a blender containing crushed ice.
2. Blend the mix until smooth.
3. Pour into your cup of choice and garnish with a pineapple wedge. Instant beach!
Boost your bartending skills further with our guide to bartending for beginners.
10. Read a new bestseller
Take this Spring Break to immerse yourself in a good book. You can update your library with the obvious: anything off The New York Times Best Sellers list. Or, check out your local library's collection of digital or physical books!
Who says reading has to be a solitary activity? Start up a virtual book club and get your friends in on the fun.
11. Hit the beach!
If your location allows (and your weather cooperates), do the classic Spring Break idea and hit the beach! Try taking a day trip to your nearest shoreline—whether it be ocean, lake, or even pond.
Try packing a picnic (or maybe just a fun cooler full of drinks, we don't judge). Explore Swig's new line of coolers and choose from family sizes, backpacks, and more.
Stay local, safe, and explore your inner creativity with these Spring Break staycation ideas.